How Online Australian Casino Laws Affect You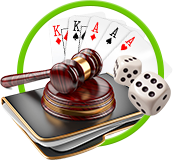 Gambling at an online Australian casino is convenient, exciting, and lots of fun, but is it legal? If you're part of the 80% of Aussies who enjoy playing the pokies or making a wager from time to time, you might be confused as to what the Australian laws actually say. Unless you're a lawyer or enjoy reading through piles of legal jargon, it's hard to know exactly what rights you have.
That's not the case anymore. With the help of our legal team, we're settling the debate on what is and what isn't legal when it comes to Australian online casinos.
Wondering what you need to know? Find out below!
Are Australian online casinos legal?
The short answer is yes!
The long answer is that Australian online gambling laws have changed a bit over the years, but it has had little affect on Aussies. It is, and always has been, perfectly legal for Oz residents to play online casinos.
Certain restrictions have been put in place by the Australian government, but they target the casino operators and not the gamblers. We have compiled the best legal online casinos available to Australians, so you have absolutely nothing to worry about during your gambling experience.
Could online gambling become illegal?
The Australian gaming community has been growing at an accelerated rate for years. Online gambling has attracted punters from all across Oz, and the industry has become very smart at adapting to government oversight.
Even if a policy change is considered by elected leaders, online gambling will remain legal for many years to come.
So what's all the fuss about?
Gambling is 100% legal everywhere in Australia, which is why so many Aussies take advantage of it. However, government officials are dedicated to helping problem gamblers, which is why they passed the Interactive Gambling Act in 2001.
The Interactive Gambling Act prohibits online casinos based in Australia from offering real-money games to Aussies, but there is no law saying a citizen in Oz can't play online casinos. Yes, it's a crazy law.
The solution is for Australian citizens to play online casinos that are based offshore. The Australian online casinos we recommend are located outside of Australia, and are fully legal for you to play. Our team regularly examines the casinos listed on our site to protect our players, and make sure they're in full compliance of the law.
Offshore Australian casinos
Because of the Interactive Gambling Act, international online casinos have been created to allow Aussies the enjoyment of gambling on the Internet. Hundreds of sites now cater to the millions of citizens in Oz who want to play their favourite table and video games from their residence.
Every offshore casino we approve of accepts the Australian dollar and features real money play. They're also approved by eCOGRA, the e-Commerce and Online Gaming Regulation and Assurance agency. eCOGRA is an accredited testing organization that specialises in online gaming software and systems.
Am I assuming any legal risks by playing?
While the Interactive Gambling Act is confusing in nature, you are not taking on any legal risks by placing an online wager. Since the online casino is based internationally, you are not breaking any law.
For the record, even if the online casino was based in Australia, you would not be the one breaking the law. Instead, it would be the operator of the casino at fault.
The future of Australian law
While some Labor Party legislators have motioned for more restrictions on both land-based and online gambling, current Prime Minister Tony Abbott has been outspoken on the fact he opposes passing additional online gambling laws. Instead, the Coalition is more in favour of requiring casino operators to offer counseling services in order to combat problem gambling.
As for the future of online gambling, Abbott has recommended that the business of offshore casinos needs to be reviewed. For a country so in favour of individual freedoms, and a nation of people who enjoy gambling, relaxing online gambling laws would be a popular move. In addition, it could be financially beneficial for the Australian government to permit casino operators to offer online gaming to its 23.6 million residents.
However, rest assured that regardless of what measures are taken, punters will be gambling online for many years to come.