Online Vs. Offline: Which Australian Casinos Are Better?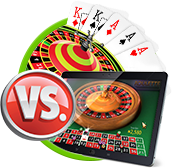 We've all walked through a casino's majestic entrance and immediately been overwhelmed by the sounds of the pokies, grandeur of the building, and energy of the patrons. There's just nothing quite like it.
It's one of the main reasons so many of us spend our holidays travelling to an urban locale with a large casino as one its main attractions. But of course, life isn't one big holiday. You can't spend time everyday in a physical casino playing the pokies or rolling the dice, as much as you want to.
Offline and online casinos both have their advantages and their drawbacks, but we wanted to see if one truly is superior. We composed a team of experienced and casual gamblers to decide which is better. They weighed the pros and cons, spent considerable amount of time at each, and finally reached a conclusion. Find out below!
Environment
Offline
It's the real McCoy. The sights, actions, and sounds are right under your nose.
Gambling at a brick-and-mortar casino is an event. It gets you out of your pad and into the middle of it all.
Plenty of options for grub exist, and drink service is 24/7, although these conveniences are expensive.
Offline casinos today are massive. Melbourne's Crown Casino measures in at a staggering 500,000 square meters! Crikey!
Online
Your environment is your computer screen. Although you're playing against other real people, you're physically alone.
However, that environment can be your house, your office or your rented holiday apartment overlooking Airlie Beach!
Online casinos offer every game an offline casino does, and you won't have to move a foot.
Advantage: Offline
Gameplay
Offline
There's something to be said for physically holding your chips, sliding them in for a bet or cradling the pot and moving it to your stash after a win. The same goes for the pokies or pulling the arm on the slots. The physical contact is definitely part of the offline casino experience.
Finding a card table can be tricky when the casino is overly busy. It can also be challenging to find a good table during off-peak hours. Example, finding a $25 blackjack table with enough players.
Casinos can't fill their floors with enough of the pokies. During peak times it can be difficult to find an open machine.
Online
Although everything is digital, the gameplay is still interactive.
Since you're participating with players from all over Oz and other countries, an online casino is always active. They also have an unlimited set of table games, pokies, slots, roulette, and more!
Compared to offline casinos, gameplay is much quicker. There is no waiting for the dealer to shuffle the deck, or player to decide whether to hit or stay. It's instant, quick, and efficient.
Advantage: Online
Payout Percentages
Offline & Online
Both offline and online casinos pay out what you win. If they didn't, we wouldn't go to them!
However, the odds in online casinos
are better than in brick and mortar casinos as an online casinos' overheads are lower than those of their land-based counterparts. Therefore, you have better chances of winning in an online casino.
Advantage: Online
Convenience
Offline
Unless you reside near a large city, chances are you're going to have to travel a fair distance to reach a real casino.
On weekends and holidays, casinos are overcrowded. Lodging is insanely expensive, tables are hard to find, and open pokies are impossible to come across.
Online
Convenience is the knock-out punch for this offline vs. online grudge match. The ability to play whenever you want, from wherever you are, is the No. 1 reason Australians have flocked online for their gambling.
Advantage: Online
Summary
Regardless of where you decide to gamble, you're going to have fun! From the pokies and blackjack, to roulette and poker, gambling at an Australian casino is exciting and entertaining!
However, our team has concluded that the online casino edges out its predecessor for the great importance of convenience. Aussies live busy lives, and while we love to gamble we have little time to do so. Online gambling extends our playing time from the comforts of our own homes!
But don't just take our word for it. Join the online casino movement today!